Check out this film documenting the conclusion of Dr. Potvin's collaboration with Wapikoni Mobile and the youth trained in filmmaking in the Bayano region of Panama.
>> View video

Découvrez ce film documentant la conclusion de la collaboration de Mme Potvin avec Wapikoni Mobile et les jeunes formés au cinéma dans la région de Bayano au Panama. >> Voir vidéo

"Mini Science 6 - Climate change and the tropics" is a public lecture given by Dr. Potvin at McGill for the Mini Science 2016 Lecture Series on how global weather patterns and climate changes impact both planetary and human health. Dr. Potvin discussed the work of Sustainable Canada Dialogues, presenting the 10 key policy orientations that could allow Canada to engage in the transition towards a low-carbon economy. These recommendations were agreed upon by more than 60 Canadian scholars from across the country, with disciplinary backgrounds ranging from engineering and business to biology and sociology, who collaborated to produce a consensus on science-based, viable solutions.
>> View video
"Forests: The Green Gold of Panama's Indigenous Peoples" gives a voice to Embera people of Panama that have been working with Dr Catherine Potvin of McGill University and her team measuring the carbon of the forest in their own territories. The film explores how members of the youth organization, technicians and traditional authority lived this unique participatory experience.

(Nov.19, 2015)


>> View video


«Les forêts: l'or vert des peuples autochtones du Panama" donne une voix aux gens Embera du Panama qui ont travaillé avec Mme Catherine Potvin de l'Université McGill et son équipe, mesurant le carbone de la forêt dans leurs propres territoires. Le film explore comment les membres de l'organisation de jeunesse, les techniciens et l'autorité traditionnelle ont vécu cette expérience participative unique.

(Le 19 novembre, 2015)


>> Voir video


"Ground-Truthing in Panama" documents the Neotropical Ecology Lab's participatory, on-the-ground validation of LiDAR carbon stock measurements in Indigenous territories of eastern Panama.

See video on YouTube

(Apr.6, 2016)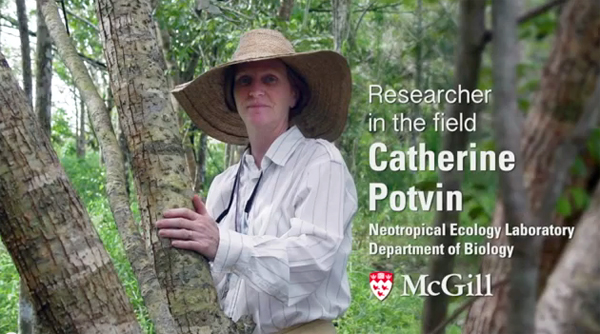 Catherine Potvin, Researcher in the Field Videos Series
All through 2013, I used an Ipod to make short videos, every week, conveying the nature of the work of my research group. Many videos were contributed by undergraduate and graduate students as well as alumni. Together we made 70 videos…. They offer a novel way of sharing how we work and what preoccupies us. The CC series introduces climate change, the IM series presents the impact of a changing climate and the PA series points out to solutions.
La science prend le large: Une série de vidéos par Catherine Potvin
Tout au long de 2013, j'ai utilisé un iPod pour faire de courtes vidéos, chaque semaine, présentant le travail de mon groupe de recherche. Plusieurs vidéos ont été réalisées par les étudiant(e)s de premier cycle et des cycles supérieurs ainsi que des gradués. Ensemble, nous avons fait 70 vidéos .... Ils offrent une nouvelle façon de partager la façon dont nous travaillons et ce qui nous préoccupe. La série CC introduit le changement climatique, la série IM présente l'impact du changement climatique et de la série PA souligne les solutions existantes.

For more videos in the set, please see:
McGill at Work: https://www.facebook.com/mcgillatwork
----------------------------------------------------------------------------------------------------------------------------------
Last update: Nov. 28, 2017