The neutral theory of biodiversity states that major patterns in the distribution and abundance of ecologically similar organisms can be explained in a very simple way, by supposing that all individuals have the same probabilities of birth and death. This is sufficient to generate abundance distributions, species-area curves and range-abundance relationships closely resembling those of natural communities.
Bell, G., Lechowicz, M.J. & Waterway, M.J. 2006. The comparative evidence relating to the neutral theory of community ecology. Ecology 87: 1378-1386.
Bell G. 2005. The co-distribution of species in relation to the neutral theory of community ecology. Ecology 86: 757-770.
Smith S.A., Bell G. & Bermingham E. 2004. Cross-Cordillera exchange mediated by the Panama Canal increased the species richness of local freshwater fish communities. Proceedings of the Royal Society of London B , 271, 1889-1896. (doi:10.1098/rspb.2004.2796). (See News@Nature 18 August 2004)
Bell G. 2001. Neutral macroecology. Science 293: 2413-2418.
Bell G., Lechowicz M.J. & Waterway M.J. 2001. The precision of adaptation in forest plants. In Silvertown J. & Antonovics J. (editors) Integrating Ecology and Evolution in a Spatial Context, pp 117 - 138. 14th Special Symposium of the British Ecological Society. Blackwell Science, Oxford.
Bell, G. 2000. The distribution of abundance in neutral communities. The American Naturalist 155: 606-617.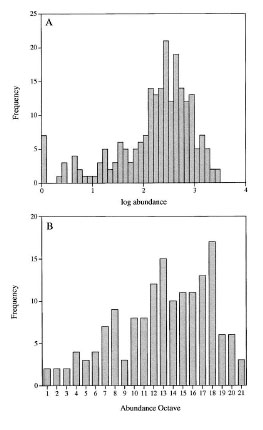 Distribution of abundance in British birds (below) and a simulated neutral community (above).